Barrier-Free Bathrooms
The bathroom is considered the most hazardous room in the house. A barrier-free bathroom will help reduce the risk of slips and falls. When equipped with shower accessories, such as shower seats and grab bars, your shower will provide long-term comfort and peace of mind.
Whether you are first-time homeowners, empty nesters, or moving in an elderly parent, everyone in your household will benefit from the addition of a barrier-free shower. The size, shape, and style of these user-friendly showers are limited only by your imagination, budget, and available space. Envision airy and open wet rooms equipped with spa-like fittings, colorfully tiled walk-in showers for two, or prefabricated units dressed with a pretty shower curtain.
Access Mobility Center & Access Construction & Design offer both durable fiberglass shower units from Best Bath Systems and custom built barrier-free showers using your existing bathroom layout with your choice of materials(tile, room accents).
We offer accessible showers, shower pans and easy step showers for residential use and ADA showers for commercial projects.
Barrier-free showers are easily entered by people in a wheelchair or shower chair offering independence and comfort for adults and children with disabilities.
An Accessible Shower stall has the shower floor at the same level (or with a slight rise) with the bathroom floor allowing easier mobility for all users.
A barrier-free showers is versatile so the whole family can enjoy bathing in their roll-in and walk in shower.

Visit Our Midland or Saginaw Location to see a Best Bath Unit for Yourself

Access Construction & Design
3960 Tittabawassee
Saginaw, MI 48604

Contact us about a Barrier Free Bathroom

989-793-9300


Access Mobility Center
7620 Eastman Ave.
Midland, MI 48642 Contact us about Barrier Free Bathroom

989-633-6100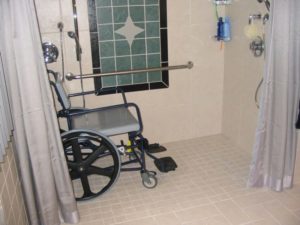 Access Companies

–

Access Construction & Design, Access Mobility Center & Saginaw Medical Service, Inc.