Erasing Barriers…the Platform Lift Solution
A porch…a deck…landing.
Architectural elements – often integral, essential — sometimes design and aesthetically driven. But, for someone using a wheelchair or scooter, or even with mobility challenges that just require a cane or walker, a porch can be a barrier.
Vertical Platform Lifts deliver the most simple and direct solution for conquering the "deck divide". Smoothly and effortlessly moving straight up and down, from patio to porch, driveway to entryway, backyard to deck, even from floor to floor, a Bruno VPL links your inside life with your outside life…. seamlessly, efficiently and up to 12′ of height!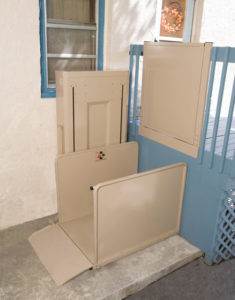 Powered by your choice of batteries or household current, Vertical Platform Lifts are strong and durable, with an array of safety features.
Erase the barriers right outside your door.
Take a look at our Resources Page for additional pictures, videos and documents.

Access Companies

–

Access Construction & Design, Access Mobility Center & Saginaw Medical Service, Inc.